Keileweg a creative hub connecting the city with the harbour.
an interview with Pieter Dobbelsteen the founder of CINNNAMON gallery.

The Rotterdam district Merwe-Vierhaven (M4H) is facing major development, yet booming from creative initiatives. One of the Rotterdam galleries CINNNAMON has recently relocated to this area sharing a building and resources with other creatives. We talked to Pieter Dobbelsteen the founder of CINNNAMON about their new location in Keileweg, the importance of collaboration and art in the recently developed situation.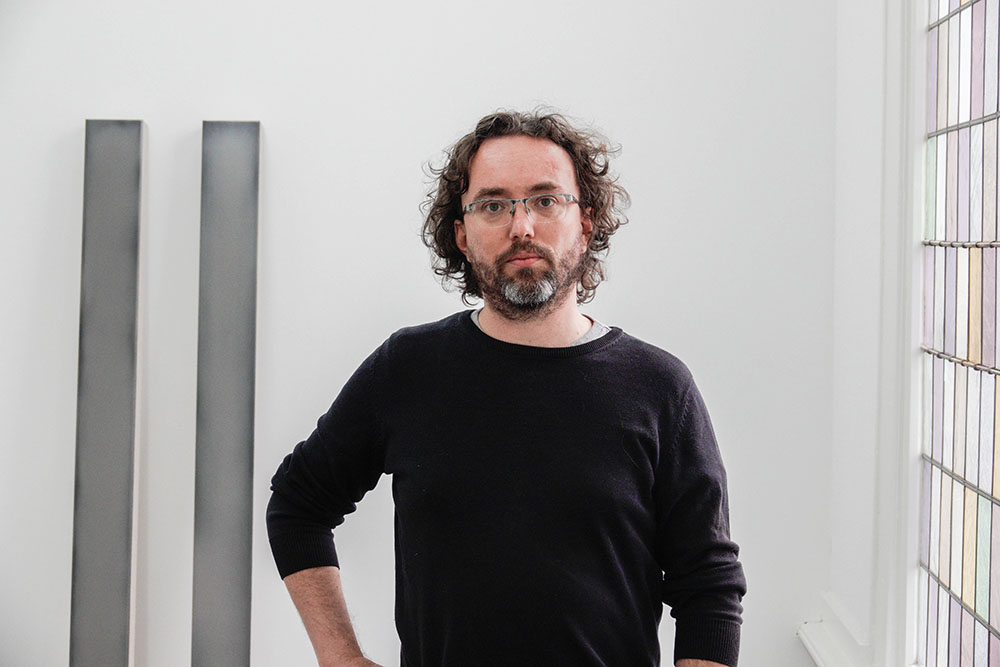 You have a background in fine art and philosophy and studied at the Rijksakademie in Amsterdam. What led you to open a gallery? How and when was the gallery born?

I had the idea of opening a gallery as an artist many years ago, around 2003 or 2004, while I was living in Antwerp, just a few years after I finished the Rijksakademie. I soon realised I wasn't ready to run a gallery, but the idea buried in the back of my mind. About ten years later, after many adventures, including living a few years in Australia, I moved back to the Netherlands. I didn't want to go back to working eight hours a day alone in the studio as an artist. I have always needed to be engaged in different roles and activities in my life. In 2014, I came back to my idea of opening a gallery. I did the research, talked to people, scouted for artists and then when I was ready, I found a space in Rotterdam. Looking back, I had no idea what I was getting into, despite the preparations. But that's the story of my life. No regrets though. The gallery opened in April of 2015.

Why did you choose Rotterdam? Did you consider other cities?

Good question. I wanted to stay in the Netherlands for a while. The most obvious choice for a gallery would have been Amsterdam but real estate prices made me look elsewhere. I wanted to be in an affordable city with a vibrant and international art scene, so Rotterdam became an obvious choice. I think it fits to my gallery. From of all the Dutch big cities Rotterdam has the most open feeling. People here are generally down to earth and I like that. Actually, my grandparents were from Rotterdam, my mother was even born here but I grew up in Brabant. Before I opened the gallery I didn't know Rotterdam that well, so it was a bit of a gamble but I followed my intuition. I think it worked out so far. But I have no idea where I'll be in ten years time. There are always sunnier places and vague visions of olive groves that are tempting.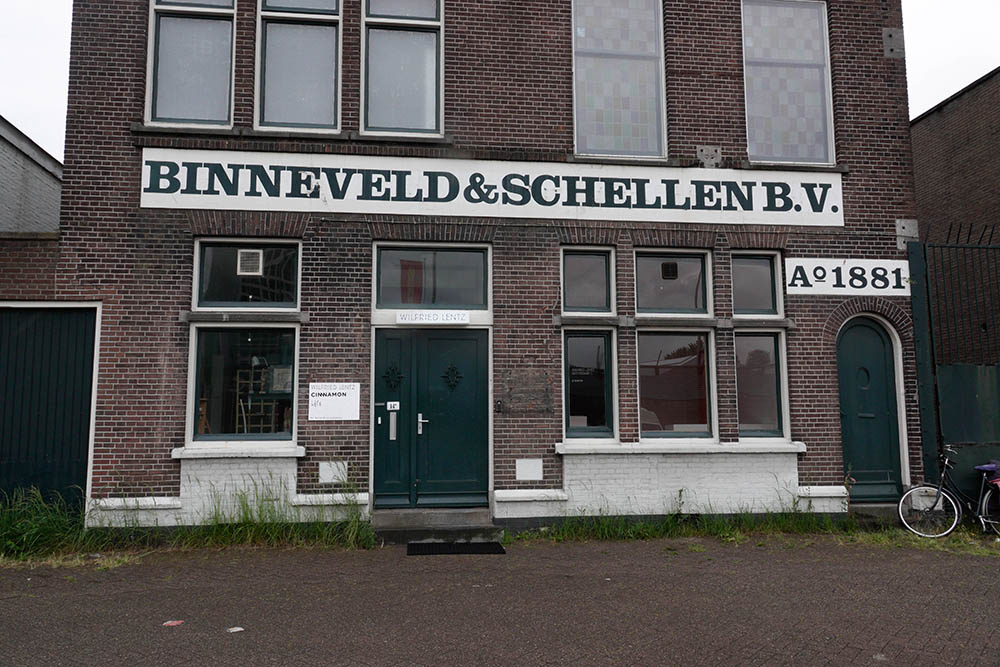 Did being a gallerist change the way you look at artworks?

Absolutely. Becoming a gallerist gave me a different perspective. The artist's eye is a maker's eye; it's more focussed on solving artistic problems. As a gallerist, I have to place myself in the position of a client, who is more likely to see the artwork as a thing in itself. A gallerist also has to take into consideration whether an artist fits the gallery program and how their work communicates with the other artists' works and the public. Although it's a bit of a taboo, we need to acknowledge that artworks are also commodities and have a price on the market. I like to think I can switch between these different ways of seeing art.

Where does the name of your gallery come from?

It's not a spectacular story. I didn't want to use my name but rather something else that is easy to remember, something that triggers people's associative memories. I figured something that appeals to the senses would do the trick. A spice like cinnamon has a distinct smell and flavour that I also like. The triple "N" is because the web domain cinnamon dot com with two "N's" was in use already. Also, I liked the quirkiness of it, and the breaking of rules.

You have just moved your gallery. Can you tell us about the current and the previous space? Different characteristics, location.

We moved from the Gouvernestraat in Het Oude Westen to the Keileweg, from a residential area in the city centre to an industrial, former harbour area. We are currently occupying the second floor of a residential-looking building, mostly surrounded by industrial buildings. The building previously housed the offices of the company whose name is still on the facade. In the past years the building housed an artist residency run by AVL Mundo. It's a building with character. There is a worn parquet floor, the smaller room has stained glass windows and a faux Neo-Gothic wood fireplace. After five years it's a pleasant change compare to the place on Gouvernestraat, which was quite narrow and deep. It had interesting nooks and corners though. Oddly enough, it seemed to change in size with each exhibition, as if it lacked a scale of itself. But it was a small oasis on a busy and gritty street. Somehow, I've always liked the idea if you enter a gallery, you enter another world, so I'll try to maintain that idea.

You are sharing the building with another gallery Wilfried Lentz Rotterdam and project space LIFE. Your neighbours are AVL Mundo and the designer Studio Roosegaarde. How do you like this new environment?

I love it! There is a good vibe here. A bit anarchist; the area is full of untapped opportunities and thrives on initiative. Currently, the Merwe-Vierhaven district is an investment hot spot between the no-go area that it used to be, and the gentrification that is to come. It hasn't lost its raw edge yet; even though we know, it will happen eventually. This situation is ideal for where the gallery currently stands: still young and adventurous, but also full of potential to grow. Working with our neighbours in the building and with AVL Mundo is also an essential aspect of being here. It's about sharing networks and resources to build something together. There is a saying: the rising tide lifts all ships. I truly believe in this approach.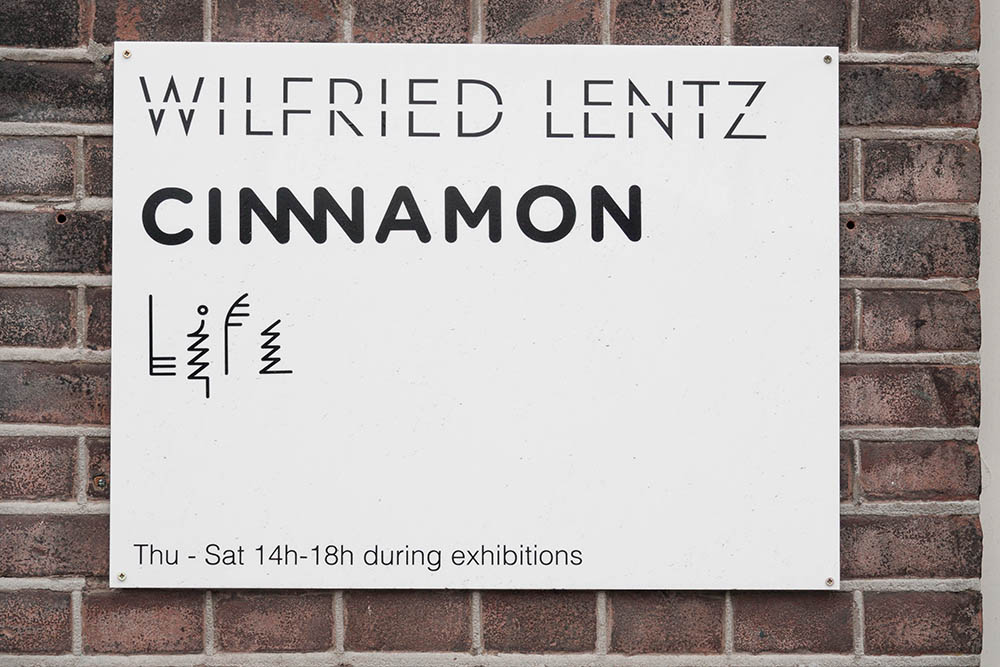 There are many collaborative approaches for example, international galleries are lining up for a new co-working complex in London,
Cromwell Place
or another innovative idea
Condo Project
, a widely cited example of inter-gallery collaboration. It is a project where galleries exchange places for throughout a weekend; having started in London in 2016, and it now takes place in New York, Shanghai and Mexico City. But we don't have to go far away, you participated in several projects like the
Ballroom Project
during Antwerp Art Weekend last year, which was also a collaborative project by galleries and served as a line between an art exhibition and commercial platform.

How do you see these collaborative projects as an alternative to art fairs and traditional models of developing a gallery?
I believe this is the way forward. There is no alternative. The "old" system, where a gallery has to walk the escalator of art fairs to get somewhere in the art world, has become impossible for many young and mid-tier galleries. Larry Saltz calls this approach "keeping up with the Gagosians". I think it was only a matter of time before the forward-thinking gallerists would come up with alternatives. It is also in line with the more general shift in the culture and the economy, towards greater cooperation, more sharing and possibly a new worldview. The neoliberal viewpoint that reduces people to a self-serving, rational agent, is coming to an end. It would be too early to say how all this will unfold, but I think it is a good development. To be clear, I don't think there is no role for art fairs. But the dominance of the fair system has become unhealthy.
Do you think social media and online viewing rooms are becoming strong influences on the art market? During the corona crisis, online selling and online presence are most relevant than ever. What is your opinion about selling online? Do you see it as a way of progression or more like an experiment? Is it something you must have?
I am undecided about this. We cannot ignore social media, online presentations and viewing rooms anymore. Coronavirus has undoubtedly accelerated this development, but for me, it's starting to get a bit too much. I can't keep up with the ever-growing online viewing rooms. Of course, an online presence as a promotional tool is important to me, but when we look at the concrete results, I have to say I'm still sceptical. I think it works with lower-priced artworks on the one hand, and for big-name that sells no matter what on the other hand. For a gallery like mine, which deals with unique works mostly by emerging artists, it's much more about promoting online and selling offline. Having this said, galleries need to rejuvenate their clientele and online presence might be the way to do that.
You have recently participated in an online platform called "not cancelled", which was an online exhibition featuring Dutch Galleries. What do you think about calling it an "exhibition"?
I wouldn't consider it as an exhibition. Not because it's online, but because it's not curated, which I believe is a precondition for calling something an exhibition, at least in the contemporary art world. It might have been more appropriate to call it an online art fair, but maybe the organisers wanted to distinguish from the art fairs system. It's good for what it is, I like it how the project links the local and the international.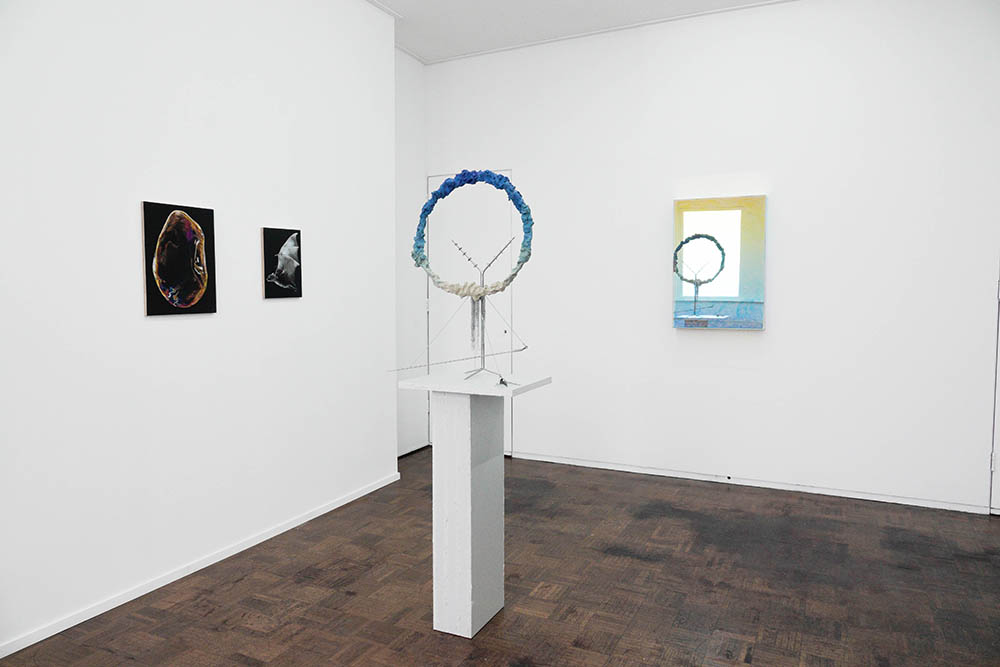 (from left to right) Niek Hendrix: 'Vanitas', 2020, 505 x 38 cm, Oil and pencil on panel / Niek Hendrix: 'Die', 2017, 285 x 38 cm, Oil on panel / Jonathan van Doornum: 'Thought about giving and receiving', 2020, 40 x 60 x 185 cm, epoxy clay, pigments, stainless steel, button batteries, key ring and brass ball chain / Filip Vervaet: 'Waiting for the sun' 2019, 86,9 x 59 x 10,4 cm, cement, glass, dichroic coating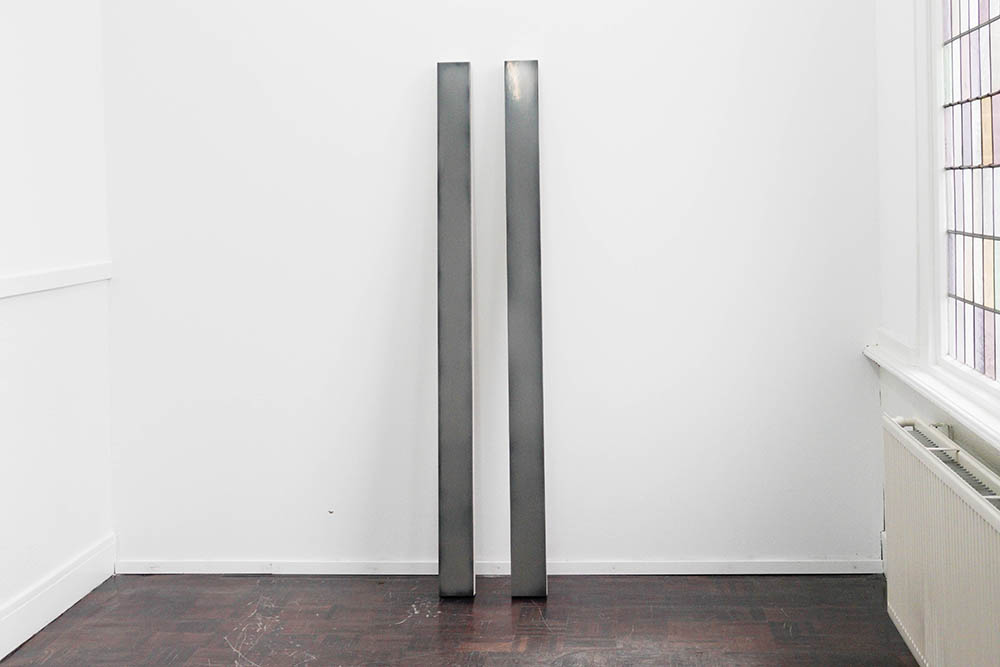 Matthew Allen: 'Sun Triggers', 2019, 187 x 12 cm, polished graphite, linen, wood

Your gallery is open now. Of course, with restrictions advised by RIVM. What is to be open now? Are you as a gallerist, rethinking your work?

So far, I feel very positive after reopening. Most people book time slots, which makes my job a lot easier. I know who's coming and when, so I can prepare. If there is no so much time between bookings, I know I can spend an hour with administration, phone calls, etc. Some people still come without an appointment, and that's fine too, as long as there's only one other visitor in the building. I've also noticed that people take more time if they book an appointment. Travel restrictions and the closure of museums brought several local people to the gallery; many of them visited us for the first time. I hope we can keep this newly discovered pace and focus. But in general, I don't need to rethink my work. It hasn't been affected that much, I still talk a lot about the artworks.

As we can read on your website, the influence of new media and new technologies on our world is a recurring theme in your program. Can you tell a bit more about your program?

Many of the artists I have exhibited, such as Yannick Val Gesto, Robert Roest, Rachel de Joode, and Sarah and Charles, address these issue in their work. Also, Just Quist has been dabbling with ideas surrounding the digital for some time. Even a seemingly traditional but ultimately conceptual painter Niek Hendrix can relate to this theme by the fact that the web inevitably influences the way we look at images and the relationship between them.

When I started the gallery five years ago, I noticed many breakthrough artists in their early thirties positioned themselves in relation to the Internet. Although I was experimenting with computer aesthetics in my own art practice in the mid-2000s, for this younger cohort it seemed to come more naturally.

But the gallery's program has never focused on this theme alone. In the last two years, it started to move away from this theme, or rather, extended its artists base. Things developed naturally, and new artistic positions locked in with already represented positions. Recently I started to get more interested in painting as a medium, I guess you will see more of this in the coming years.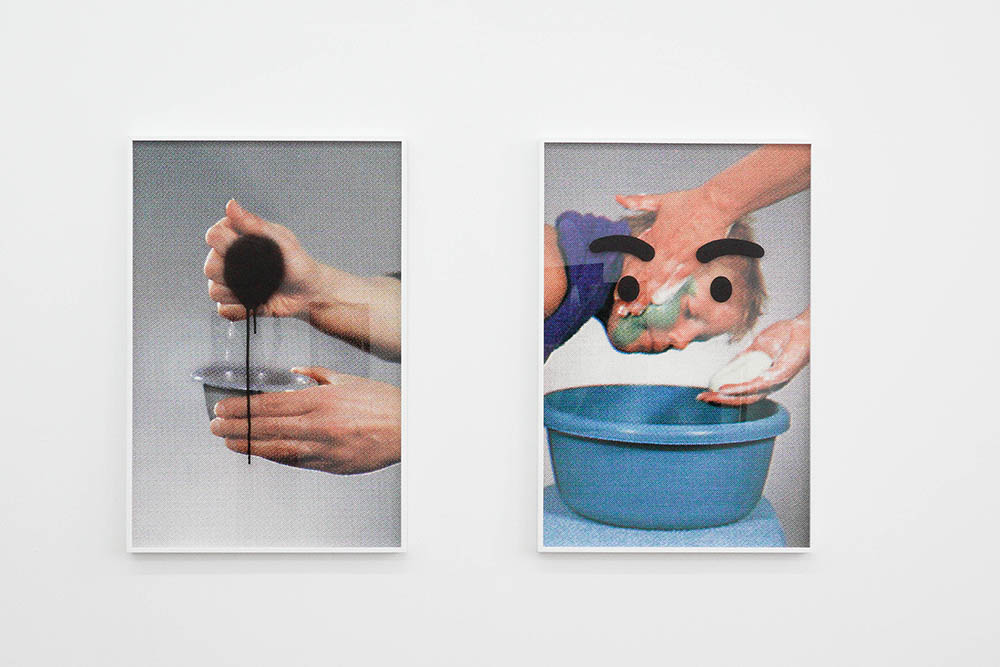 Sarah & Charles, 'SIMULACRE ET SIMULATION', 2019, High resolution print of scanned images, mounted on wooden frames with print on glass

How do you see the relationship between the narrative around the artist and the artwork itself? Does the artist's bio, the artist's story of the process behind the work (political, social) is more important than the end product itself? Does art need storytelling techniques?

Of course, the biography and the story are part of the artwork's reception, but I don't believe they should be more important than the artwork itself. But we're talking about two different things here; the artist's biography and the artist's artistic intentions. A biography provides an external context, which is important; at the same time, an artwork has different perceptions in different contexts. Let's say a figurative painter only shows in galleries that work exclusively with figurative paintings.In this case the artwork only part of one kind of conversation. If the same artist regularly exhibits at venues with a more varied program, then the artwork becomes a part of a whole other kind of conversations. I'm not saying one is better than the other, but we need to be conscious about such contextualisation. As a gallerist, I'm constantly aware of my role as a 'contextualising agent'. The stories, the process as well as the intentions come into play when I explain a work to visitors, or when I write a text. Some artwork needs more explanation than the other. I'm a bit more reluctant when the artist's persona or lifestyle becomes part of the sales pitch, unless it's relevant to the work. At the same time, for some collectors, the intention of the artist is entirely irrelevant.

What is the most important aspect for you in working with artists? How is your art background involved in the practice?

It's different from artist to artist. All relationships are defined by two unique individuals. I've developed very close working relationship, even friendships, with some of the artists. With others I have a relationship that is defined by more professional distance. Some needs more coaching, and others work very independently. As with all relationships, things change over time. My background helps me to understand the artist's perspective and position; all the struggles, joys, insecurities and euphoria. At the same time, I have to maintain my role as a gallerist, a role that not always aligned with an individual artist's interests and sensitivities. I have to divide my time and energy over more than one artist, while maintaining the gallery's long-term goals. Also, as an artist who became a gallerist I'm a creative among creatives, I'm good at creating the context and conditions for new things to happen, but this also means I sometimes tend to be chaotic which means I might not always be the best manager.

Some words about your current group show "Medicine Breath" which is the first show in the new location. Can you tell a bit more about that? Title, theme, choice of artists.

For me, group shows like this come about quite intuitively. I don't overthink an exhibition before I start. I wanted to open the new space with a group show, just like when I opened the gallery for the first time in 2015. The title came up in a talk during Art Rotterdam week, at the opening of the performance section. One of the artists of the show, Niek Hendrix told me the story of Listerine mouthwash. How people hated the medicinal taste when it first appeared on the market until smart marketers turned things around by creating a slogan 'the taste people hate, twice a day' which brought tremendous success to the brand. I liked the idea of owning failure to succeed, but thr phrase 'medicine breath' has so many other possible interpretations. Ideas around hygiene, cleanliness, masking natural phenomena, and perfection all come into play.

The theme initially had nothing to do with the Corona epidemic. After we had to postpone the opening because of the lockdown, the current events added an extra layer to the story of the exhibition. What's interesting, I didn't realise this before, is that all works are about closeness and distance on a certain level. Socially, mentally, and physically. It's fascinating how intuition works.

10 June, 2020
'MEDICINE BREATH'

Matthew Allen, Jonathan van Doornum, Niek Hendrix, Filip Vervaet and Sarah & Charles.
9 May – 4 July, 2020
CINNNAMON
Keileweg 14a, 3029 BS
Open:
Thu - Sat 14.00 - 18.00
Coronavirus Update: Visiting in time-slots of one hour can be booked by
clicking here.
Outside these hours open by appointment.
Subscribe to our newsletter
We will not share your name or email with third parties and of course you can unsubscribe at any time.