New name, new identity:
An interview with Sofía Hernández Chong Cuy, the director of Kunstinstituut Melly.

After 31 years, on 27 January 2021, Witte de With Center for Contemporary Art changed its name to Kunstinstituut Melly to dissociate itself from its namesake and the heavy history of colonial oppression. We talked to Sofía Hernández Chong Cuy, the director of Kunstinstituut Melly to gain deeper insight into the process.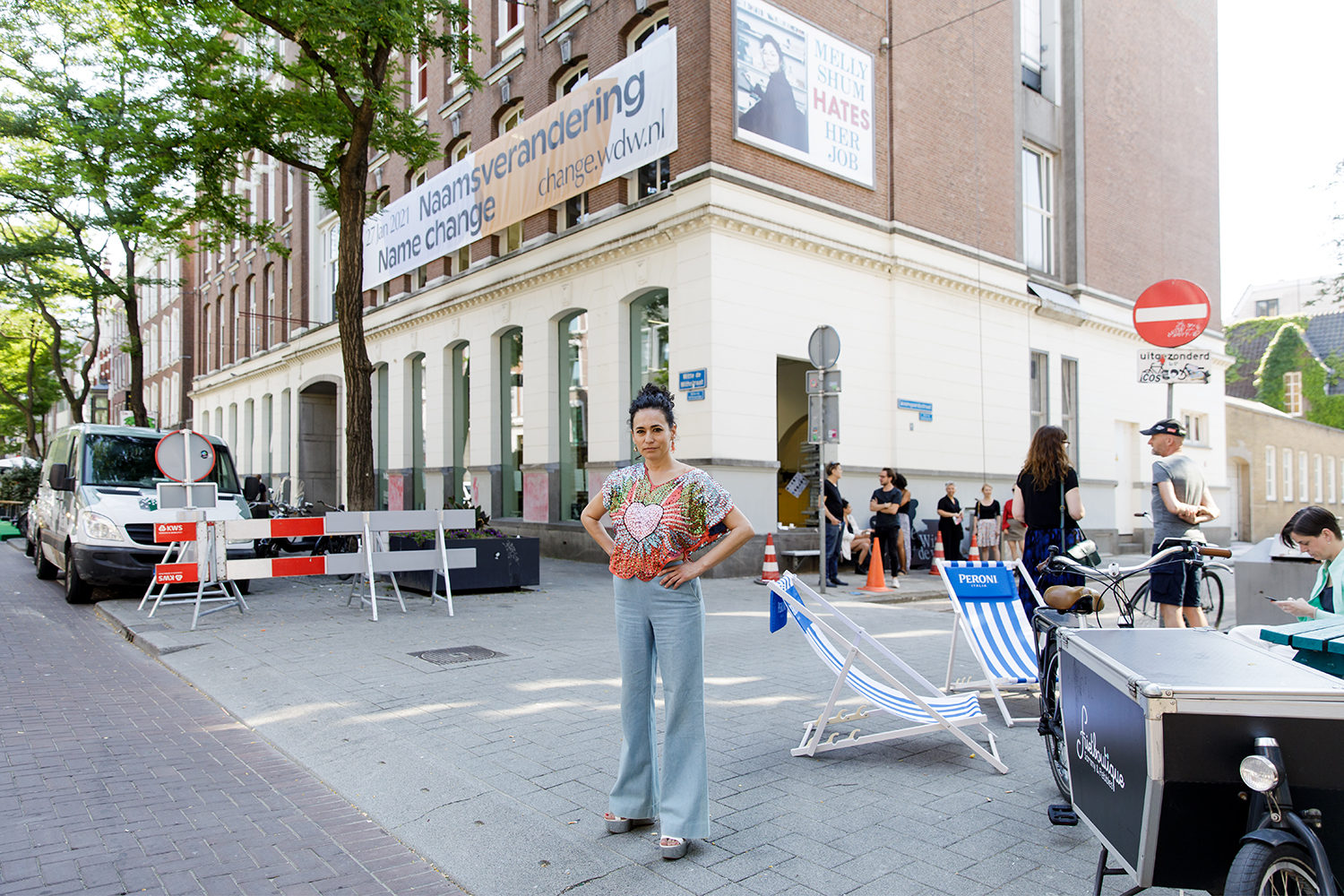 Director Sofía Hernández Chong Cuy in front of Kunstinstituut Melly on 27June 2020. Photographer: Aad Hoogendoorn.

- You have had a distinguished career in curating exhibitions worldwide, working in institutions and museums in Latin America and New York. Since 2018, you have been based in Rotterdam. How do you feel about the cultural shift?

I would say it is a significant shift. It is my first time fully living in Europe. I did a six-month curatorial residency in Paris, but that was many years ago. Living in Rotterdam has been very exciting. I love the city. Now, I feel very much settled here. I am drawn to site-specificity and site-specific art, in general, so to be rooted in a place is very important for developing my practice. The cultural shift and change of work environment was, however, radical. My work in Latin America beforehand was very much research-oriented; it didn't involve making exhibitions as much as it did organizing event-based educational programming. In light of the political situation in Venezuela, where I developed much of my work before coming here, it was not easy to create exhibitions; I also felt the arts community there was interested in coming together and discussing ideas. My practice in New York, on the other hand, was largely based on developing a collection of contemporary art that grew out of the research conducted in Latin America. Coming to work here, to Rotterdam, to work at an institution that is by and large exhibition-oriented therefore marked a difference in practice; especially after having arrived at a moment when the institution was going through a transition period: a change of identity. Also, I have arrived when the country at large is also going through social changes that involve a lot of historical questioning. This impacts both cultural production and reception. It is the right moment to be here.
- In an interview, I read that you said: 'I see myself as a very politically involved person, but I am certainly not an activist'. You have curated exhibitions addressing issues of cultural uprooting and belonging, identity, immigration. Does the Witte de With's name change correlate to this and your curatorial practice?
Yes, indeed. For example, addressing issues of representation and cultural minorities has been part of my curatorial focus for some time. Just before I came to Rotterdam, I was a guest curator at the Bronx Museum in New York, where I developed an exhibition series called 'The Neighbours'. These explored longstanding issues addressed by that institution. The museum was founded on the promise of representing local communities around the museum, which are mostly of African-, Latin- and Asian-American descent. 'The Neighbours' involved questions of identity, with work by artists who were born in America to immigrant parents. And the exhibitions explored aspects around class, immigration and even sanctuaries, since religious institutions have been historically a haven for immigrants in the United States, as they are in other parts of the world. The exhibition series posed relevant questions around immigrants rooted in the United States, and who have maintained a strong connection with families and communities in other parts of the world, like Latin America.
- Are there artists whom you follow, and who have inspired you lately?
Yes, there are several artists. Besides, I am interested in artistic research and micro-histories in contemporary art. I like research-based practices when archives and art go beyond being just a document to read or look at, and instead express a moment and emotion. At present, I am working with Iris Kensmil, an artist based in Amsterdam. She represented the Netherlands in the Venice Biennale two years ago. She will have an exhibition at Kunstinstituut Melly in the fall. I feel connected to her work and practice in how she does archive research to develop her paintings and how her paintings themselves become archives. And any other artists I have been working with at the institute have been very important to me, like Annika Yi or Cecilia Vicuña or Teresa Margolles and Irene Kopelman. I follow artists like them who explore relevant subject matters of our present time and engage art history in novel ways. I am also interested in visual art that can picture or voice micro-histories that have not been studied so much, and involve observation, deep listening and fieldwork. Our experiences are part of embodied knowledge. In this sense, I believe you can't separate the self or the body from a localised context. And I am drawn to artists whose work manifests this in exciting ways.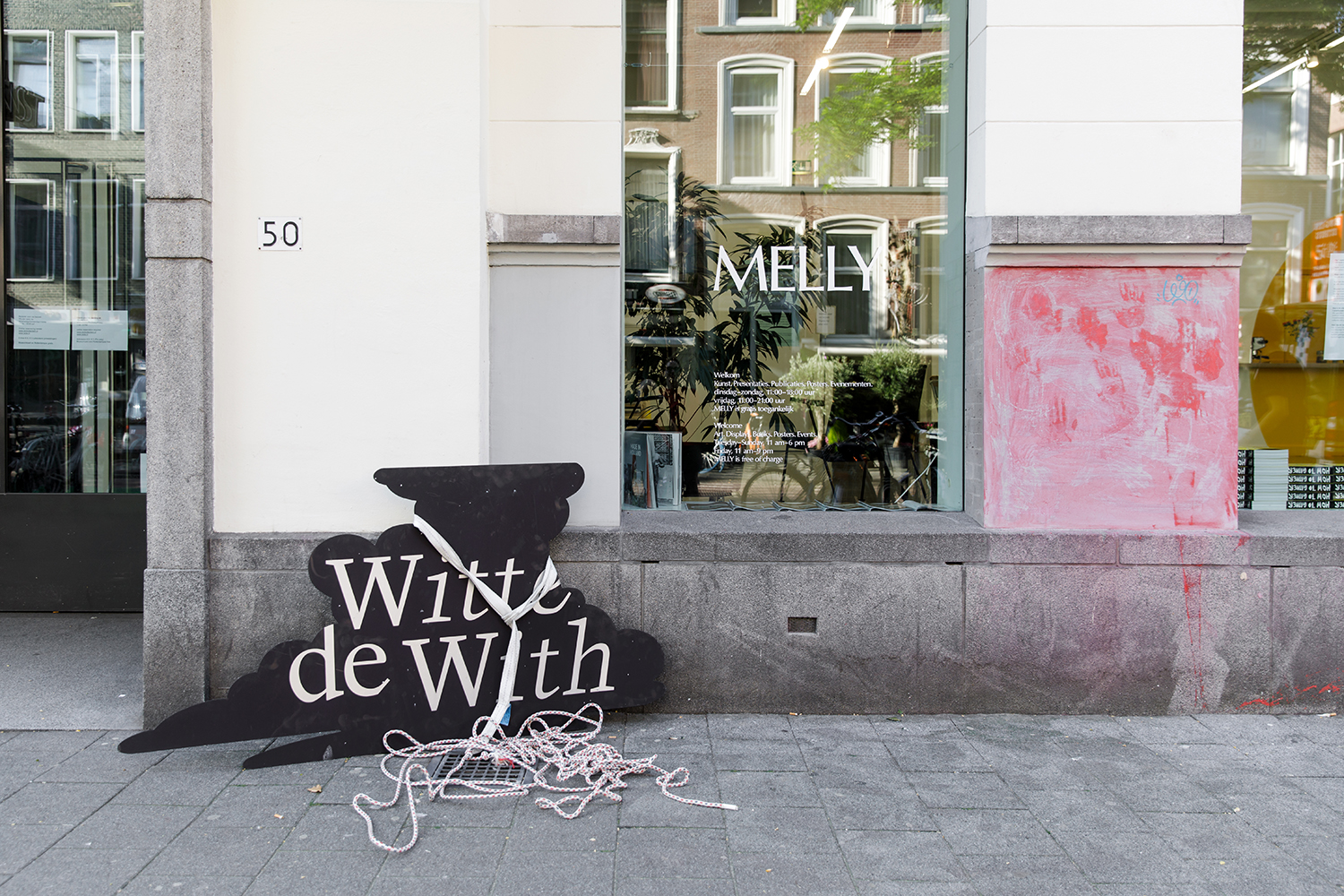 On 27 June 2020 the institution announced to withdraw their thirty-year-old name "Witte de With Center for Contemporary Art". Photographer: Aad Hoogendoorn.

- The name change was a long process that started in 2017. As I read through the reports, I realise it is crucial to put the process in the spotlight to understand the choice of the new name. Can you give us a brief insight into the process and the story behind the new name?

I would say the new name of the institution surprised all of us! I am pleased with this. In any case, it was very important to me that the new name come from the process and interaction with the community expanding the institution. It was crucial that the institution engage in more extensive discussions on a local level, and not just on a national or international level. The process of the name change has involved a lot of listening and note-taking that will shape our institutional trajectory in the years to come. The first two years of the name change initiative were about shaping the team and broadening our forms of public engagement. As part of our programme, we started a project called the 'Work Learn Project', a collective learning programme with young professionals and creative makers from Rotterdam. The first group of participants in this programme were those who named the ground floor gallery space 'MELLY' in 2019. The experience of this programme, the discussions, the participants' involvement, experimentation and public engagement turned out to be so influential for the whole institution that, two years later, the name they chose for the downstairs gallery space informed the name choice of the institution as a whole. The name 'Melly' had shown potential. It comes from public engagement, but it is not just a finite outcome of a programme; it represents the relationships to and the circulation of knowledge in a more horizontal way. In this sense, we reconnected our institution to Rotterdam, while keeping it globally meaningful. The name 'Melly' represents a new way of working.

- 15 weekly working lunches, public forums, discussions and open debates. Is there a highlight of the process?

I think the way the team and our board have changed together with our programme is key. This transformation is not only diversification from within; our public has also broadened, beyond communities of arts professionals. The name change is just one of the positive changes of this all. You asked me about cultural shifts earlier; I can add this one to the list: I experienced a shift within the institution itself. It has to do with our institutional practice, which is much more collaborative, much more open and diversified. It was important to see that the institutional transformation was not just about the name, but also a new way of public engagement that involves developing a more open work culture.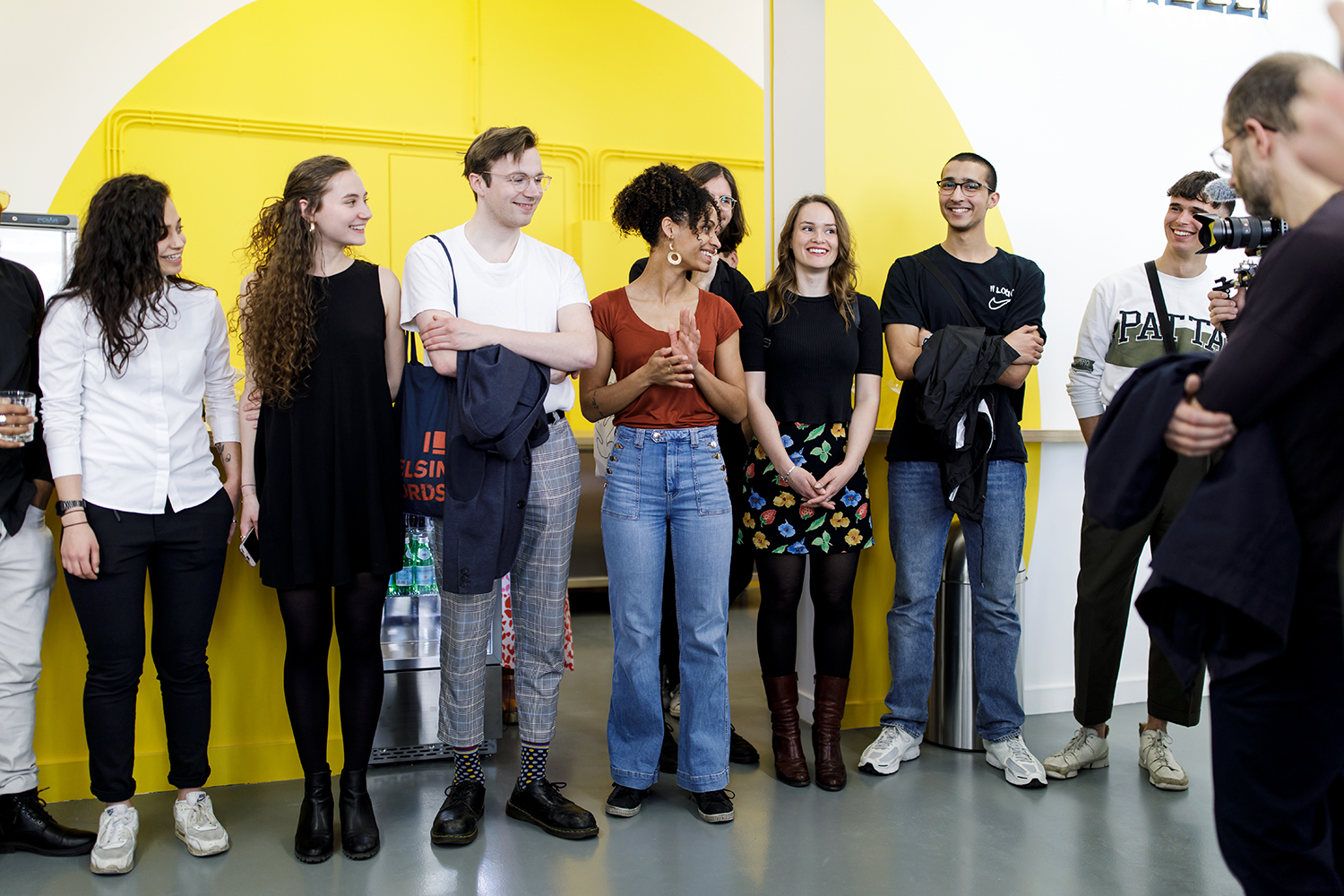 Work Learn Project 2018-2019 members Gizem Adanur, Chloé Blansjaar, Tayler Calister, Mohamed Chajid, Sjoerd Van Kampen, Stijn Kemper, Eva Langstraat, Joy Ravenswaaij, and Sytze Van Der Wolk; Lead by Curator of Collective Learning Jessy Koeiman. Photographer: Aad Hoogendoorn.

- What have you learned through the process?

We have learned to be more publicly engaged. Personally, I have learned to see differently and to listen better, to lead without being in control. I mean here the way we control meanings or control identities. We can continue being experimental, but it doesn't mean we have to control the meaning of what contemporary art is, for example.

- What about Melly Shum? Does she represent the identity of the institution?

I believe Melly Shum in the artwork by Ken Lum on the façade of our building is part of the identity of Kunstinstituut Melly. There are many interpretations of this work. I will highlight just one of these now, which is also the interpretation from the participants of our 'Work Learn Project' back in 2018–2019: Melly Shum relates to the cultural diversity of Rotterdam, and there are many such similar cities like this that are made up of a mix of so many countries. This kind of society gives us a chance to connect to an international as well as local public on a regular basis. There is another interpretation, which is important to mention: the artwork by Lum has been on the wall since the institute's foundation in 1990. It speaks to the fact that the institution has an existing history, despite having a new name. It reminds us not to forget the past, but to remember it or think about it in other terms. Drawing a parallel with the decolonisation movement requires revisiting and analysing the past from a different perspective. Ken Lum's artwork has accompanied the institution since the beginning, and the relationship between the artwork and the institution has created an opportunity to see the past in a different light, with histories that have to be investigated visibly or discursively—and such is the historical past of this country.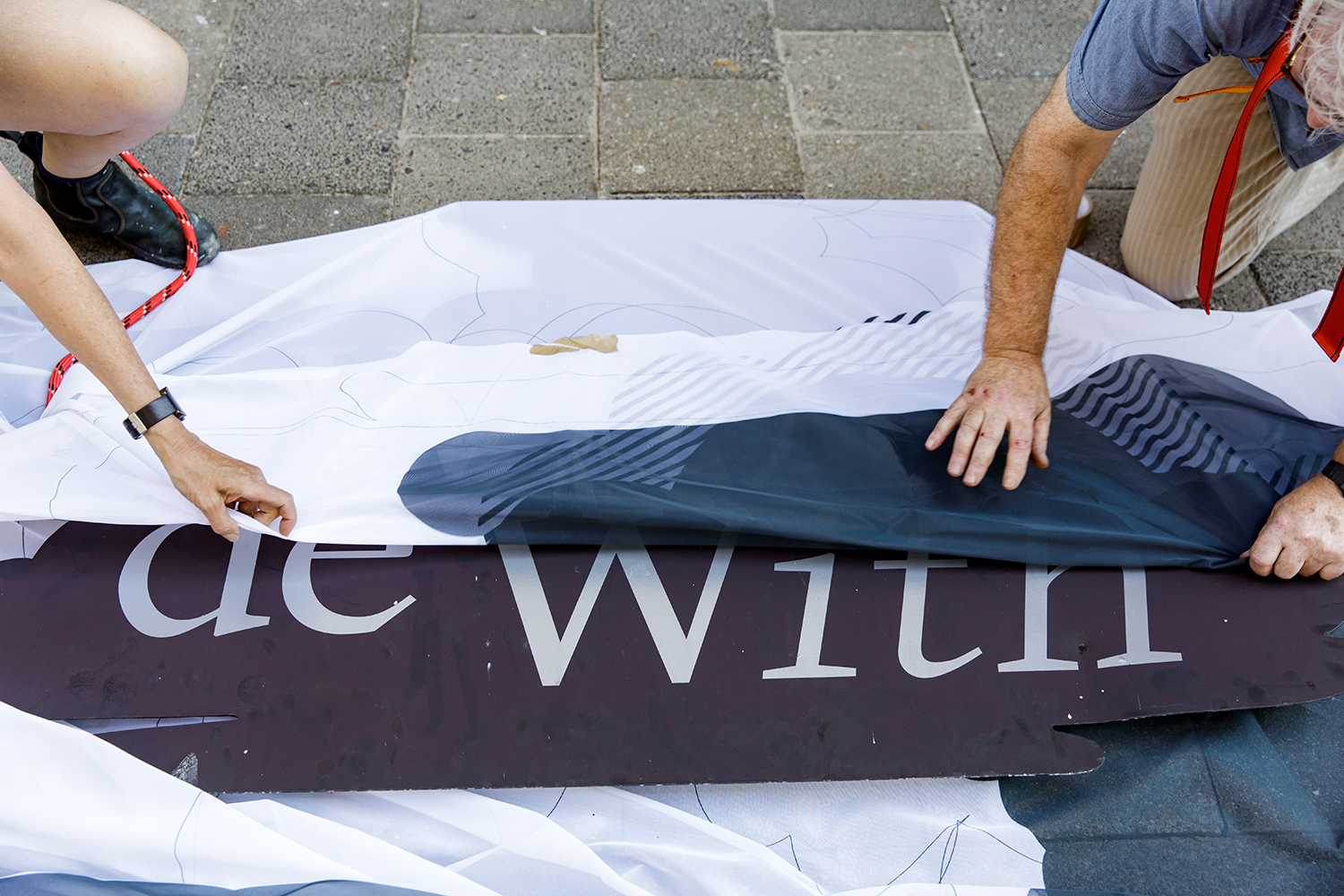 On 27 June 2020 the institution announced to withdraw their thirty-year-old name "Witte de With Center for Contemporary Art". Photographer: Aad Hoogendoorn.

- How about the audience?
Our new forms of public engagement and our new name also come with a new policy that, I feel, will continue to broaden our audiences. It's now not just about involving art professionals, who are our long-standing audience and a key stakeholder for us; it is also about engaging people who are interested in contemporary visual culture. We want to be able to engage them in our research and programme. I am also delighted to see that the name-change discussions and process have to date attracted a very intergenerational audience and created a space where different kinds of expertise are exchanged. Our institution has become much more welcoming in this process, and our new name, Kunstinstituut Melly, allows us to continue this effort.
- Can we have a teaser of the new programme?
The new name's launch programme will be done through a television programme, starting this Wednesday, 27 January at 8 PM! Hoping you and your readers can watch! I am very excited about the several collaborators, including Brand New Guys and Lillith magazine , as well as Open Rotterdam. From our team, it's been Jessy Koeiman and Vivian Ziherl, as well as Emmelie Mijs and Veronika Babyan who have been developing it. And about our new programme in general—I can tell you in advance that it includes a long-term initiative involving art installations and public programming addressing health issues; it will be a kind of workshop-oriented social space on our entire third floor. It's going to be interesting, beautiful and fun!
- The name change and the new programme launch in the middle of the coronavirus pandemic. How do you cope with it?
This is also why our name launch activities will be on television—its three episodes will be broadcast by Open Rotterdam and streamed online on our institution's website and social media, as well as in e-flux. For the longer term…well, the pandemic has had a significant effect on our activities. Last year, we launched the website Offsite.wdw.nl, an online platform to digitally share ideas and content with the public during the pandemic lockdowns. And, we will actually continue having events streamed or content available online regardless of the pandemic. We are learning to set up online programmes better each time. And as soon as we can, we will do public events again with social distancing considerations and probably with smaller audiences…but we are hoping this will be a reality soon!

27 January, 2021

Kunstintituut Melly Launch program on Wednesdays
27 Jan | 3 Feb | 10 Feb, 2021 - 8 pm
Visit website