TIME TO KILL TODAY II. at the Frank Taal Gallery, Rotterdam on 30th August, 2019
Review by Michael Hasted, Editor of ArtsTalk Magazine
Review first published in
ArtsTalk Magazine
We first saw Time to Kill Today six weeks ago when it was presented by architects Luca Elio Rimatori and Maurice Nio in the practice's in-house gallery, The Nio Basement just off the trendy Witte de Withstraat. Based on and inspired by the work of Italian artist Sebastiano Bottaro this dance/movement performance has changed a lot over that time. The only thing the two events seemed to have in common were the hypnotic soundscape by Itzik Vanunu, sand and some dancers.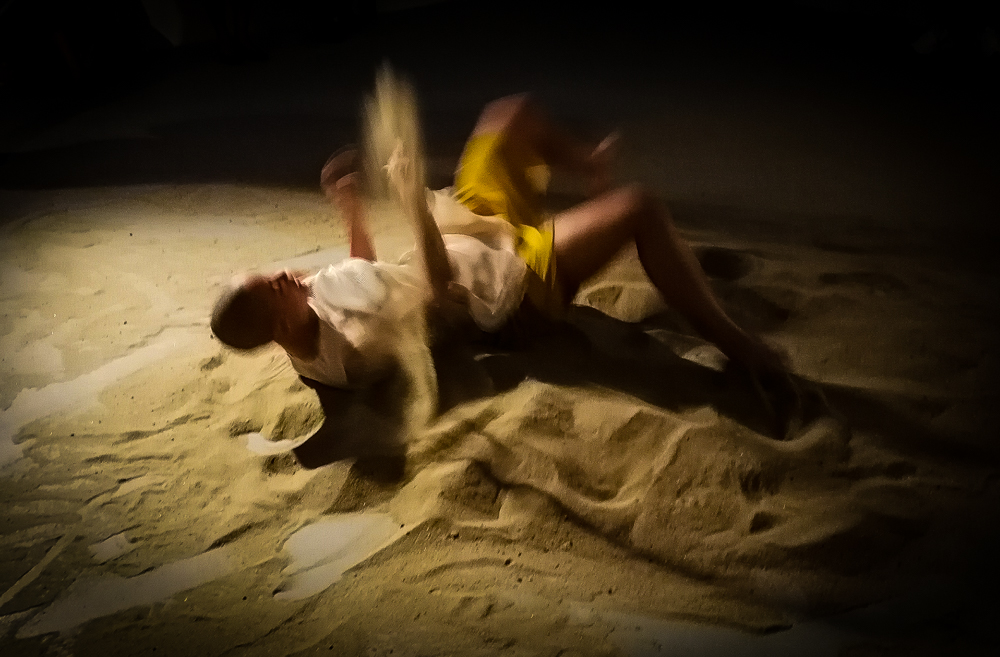 Photo: Michael Hasted/ArtsTalk Magazine 2019

Frank Taal's gallery provides the perfect space for this type of performance and rather than the large rectangle of sand at the Nio Basement, we were confronted by three smallish piles of sand strategically placed on the gallery floor while some of Sebastiano Bottaro's works on glass hung on the walls. The installation was so effective it could well have been a work in its own right with no further intervention. But there was more to come.
The gallery stood empty as the audience congregated outside in the warm summer evening, fortified by locally-made Bobby's Dry Gin, expertly mixed with tonic, lemon peel and a clove by barman-for-the-night Luca Rimatori.

But inside things were beginning to stir. Three girls began to slowly move around the gallery, slowly like spirits – ethereal, not alcoholic – as the soundscape began to build. Gradually the audience drifted inside to see what was happening.

The movements of performers Yulia Kalinchenko, Alina Fejzo and Nicole van den Berg became more aggressive as they began to dive into and roll around on the central pile of sand until it became flattened and embossed with their bare foot-prints.

Aiming to focus on the idea of a repetitive gesture as a fetish form towards the medium in order to reveal the traces of movement of the Ego while transcending into its own empirical existence, Dario Tortorelli's choreography and Ralitza Malehounova's dance whispering certainly held the attention of the audience as the scene was played out. A giant step forward and a big improvement from the original presentation. A very satisfying evening.

Michael Hasted, 31st August 2019