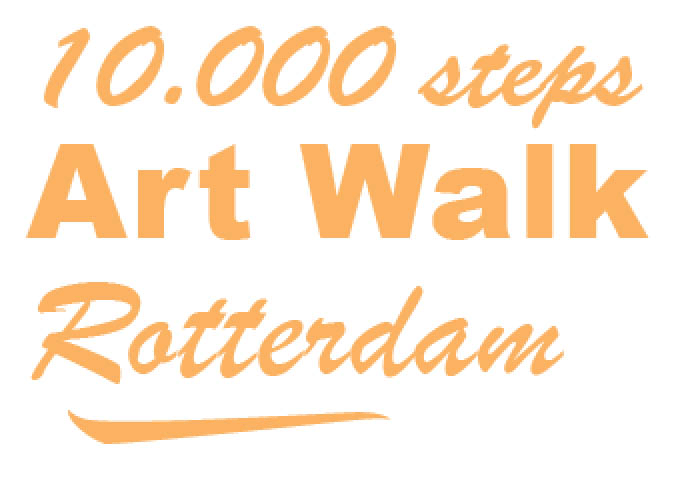 'walking the talk' - a simple concept: we follow the art step by step until we reach the ten-thousandth step. This walk allows you to exercise, explore and see Rotterdam with different eyes and meet new people. Expect a nice walking route through the city. Art makes you move, that's why Art Index Rotterdam loves to take you on a walk. It's healthy, you have the time to enjoy the city while looking around, see great art in public space and connect with people. Rotterdam is a great city to discover on foot, as there is so much to see. Walking has common ground with all kinds of parts of the city and urban development. It is about the design of public space and mobility, but also about people's health, economic vitality and the quality of life in the city. / 'walking the talk' met de '10.000 steps - Art Walk in 010. Een eenvoudig concept, stap voor stap, volgen we de kunst tot we de tienduizendste stap hebben bereikt. Verwacht een mooie wandelroute door de stad. We laten jou met andere ogen kijken, ontdekken verrassende plekken in Rotterdam en je ontmoet nieuwe mensen. Wandelen is gezond, je hebt de tijd om van de stad te genieten terwijl je om je heen kijkt. Geweldige kunst in de openbare ruimte zien en in contact komen met nieuwe mensen. Rotterdam is een geweldige stad om wandelend te ontdekken, want er is zoveel te zien. In de komende jaren zal het nog aantrekkelijker worden voor voetgangers, omdat de stad een voorbeeld wil zijn voor stedelijke ontwikkeling. Het gaat over de inrichting van de openbare ruimte en mobiliteit, maar ook over de gezondheid van mensen, de economische vitaliteit en de kwaliteit van leven in de stad.


Language / Taal:
Nederlands (English summary en route)
Cost / Deelname:
€10 pp
Meeting point / Startpunt:
Metrostation Hoek van Holland Haven
Duration /
Duur:
3 hours (including a break)

Walking /
Wandelen:
10.000 steps (approx. 7-8 km)
Guide / Gids:
Art Index Rotterdam Guide Anne-Marie
Tip:
wear good shoes, bring rain gear / drinks-snacks / your OV-card and camera/phone.

Next date:

Sun, 15 Jan, 12.30–16.00

10.000 Steps Art Walk – Hoek van Holland.

A walk in Hoek van Holland, a special part of Rotterdam, at the end of the Nieuwe Waterweg, with port, beach, village and dunes, opposite Rozenburg, Europoort and the Maasvlakte. The walk will include public artworks by Dora Dolz, Bart Eysink Smeets, Hank Hans, Frank Meisler, Jan Snoeck, Elisa de Ridder-Mastrigt, Albert Termote and Louis Wolters. The walk will pass by iCOON art space, a former munitions bunker where the curator will introduce us to a minimalist art exhibition in development longing for Donald Judd.


Please find here our
Terms and Conditions >
Download

Subscribe to our newsletter
We will not share your name or email with third parties and of course you can unsubscribe at any time.